---
Bridle leather is a full grain vegetable tanned leather that is tough and hardwearing. A drum dyed leather, it is hot stuffed with oils, waxes and tallows for a deep colour with a smooth and waxy texture.
Shop Wickett & Craig Bridle Straps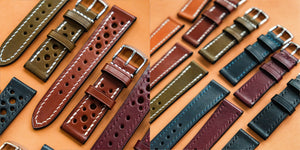 ---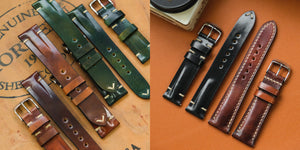 Found on the posterior of a horse, the shells are tanned, stuffed, shaved and polished over a six months process by skilled artisans. Extremely resilient with a non-creasing ability, it has a rich colour and a subtle lustre. 
Shop Horween Shell Cordovan Watch Straps
---
Horween Chromexcel Leather is characterized by a rich pull up effect which is the temporary lightening of colours when folded or flexed. The leather wraps around your wrist comfortably and has the ability to develop a great patina over time.
Shop Horween Leather Watch Straps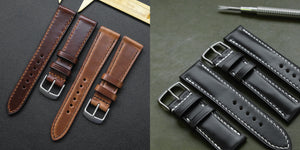 ---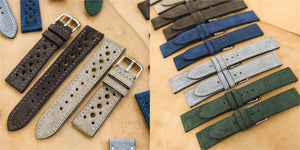 From the finest Italian craftsmanship in leather making, we have sourced for quality Suede to produce these stunning hand crafted straps with a soft napped texture where the look changes when fibres are brushed up or down.
Shop Suede Watch Straps
---
Extremely supple and soft goat leather that is available in a wide range of vivid colours that are uniformed with a subtle lustre. It has a beautiful grained texture which does not scratch easily and resists moisture well, allowing it to withstand the test of time. 
Shop Chevre Leather Watch Straps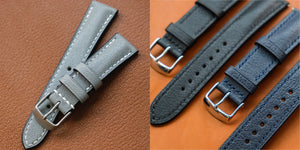 ---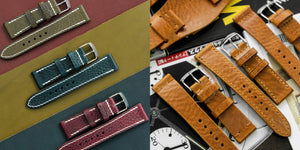 Made from Full Grain Vegetable Tanned Leather that undergo a time and labour intensive method of tanning, the hides are robust as they have not been buffed for imperfections. Without a synthetic top coat, the leather will bear your marks with use and age beautifully over time.
Shop Italian Leather Watch Straps
---
Hand crafted from the finest material, these well made watch pouches will safely store your timepieces. Available in various sizes with customizable thread option.
Shop Watch Pouch